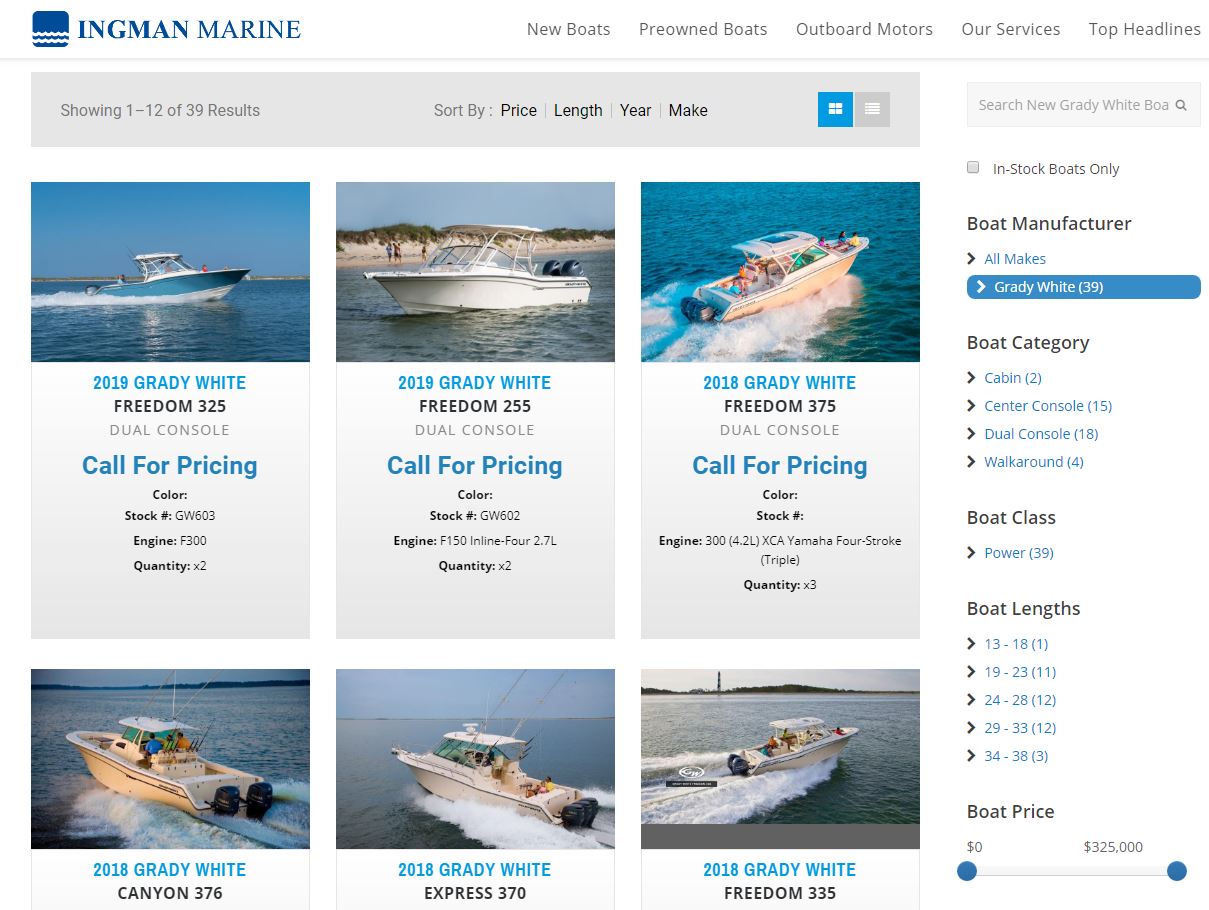 Customer Spotlight
Ingman Marine 3.0

We first launched a dealership website for Ingman Marine in 2007. What we now refer to as 1.0 was primarily concentrated on incorporating inventory into the site. In 2010, we released version 2.0 of the site with more focus on search engine optimization and marketing potential. On May 5th, 2018 we launched version 3.0. Utilizing the knowledge gained from the previous 8 years of traffic generation success, we released a new site that has already surpassed our expectations.
---
Integrations
We integration with most types of online software including:
Sales/CRM systems
Social Media Channels
Marketing Automation
and thousands more...
see complete list
API
We also have our own custom built API that enables online software to integrate with our platform. If you are a technology firm interested in offering more to your dealership clients,
Contact Us
today to learn more about our connectivity options.
Wordpress
Seemless integration with any Wordpress powered site. If you already have a website on the Wordpress platform, our inventory management and marketing software integrates in minutes. Expand the power and marketing potential of your website quickly.
---
Free Trials
We are now offering free trial accounts. If you are the type of person that prefers to test drive before you buy, our instant trial accounts enable you to do just that. Get your new search engine optimized and mobile friendly website operational in minutes, not months. Our free trial gets you access to our top notch platform and a newly designed website, be sure to sign up below.

Improved Lead Management
Over the years the amount of customer leads we send to our dealership customers has steadily increases. Naturally so have the requests for more advanced lead management tools. We listen to our dealership clients. Our current roadmap includes several updates to how leads are processed and integrated with other systems.
---
---
Digital Marketing Services
We understand dealerships. We understand search engine marketing. We drive interested buyers to our customers showroom floors. If your dealership could use more potential buyers, let us customize an internet marketing strategy for you. We specialize in online advertising, social media, search engine optimization, content publishing and many other tactics to help dealerships succeed.
We know how to target your audience. With years of experience in the dealership industry and a proven track record of success our team can increase your sales in no time.
Speak with a
Marketing Specialist

today

Tell us more about your dealership, and we will tell you more about how to increase your potential buyers

Our Services Request A Consultation